Comfort Testing
The Efficient Home's licensed, courteous and experienced staff will perform a variety of tests and visual inspections to locate air leakage that is infiltrating your home.
Visual Diagnosis
We inspect your home's envelope for cracks, openings, seams, and insulation levels.

Enhanced Diagnosis
We go beyond the visual diagnosis through use of a blower door, manometer, and temperature sensors.


Efficiency Tip: Too much airflow through the home can increase utility costs due to heating & cooling losses.

Health Tip: Too little airflow in the home can reduce air quality inside the home.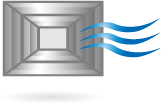 The Efficient Home will test for and detect air leakage from ducts into unconditioned spaces in the home, typically the attic and crawl space, or anything outside the living space.

Carbon Monoxide Testing (CO)
The Efficient Home will test the accessible areas of your home for safe (CO) levels with a carbon monoxide meter.
Test the stove and Cook Top appliances for (CO) leakage.
Test the furnace & boiler room for (CO) leakage.

Vent Testing
The Efficient Home will conduct a ventilation test and provide an analysis of the results for furnace, water, heater, and boiler.
Check for improper vent piping installation
Test for back drafts and spillage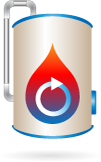 Proper Combustion Check
(Assisted by use of a combustion analyzer)
The Efficient Home will make sure that your home's heating & hot water units provide proper combustion.
We provide concise, detailed reports including recommendations, solutions & services along with detailed illustrations. All prepared by licensed, courteous and experienced professionals.
The Efficient Home is fully licensed in New York State under Christopher Burton : Home Inspector Lic.# 16000062931.