Buying a new house, condo, or apartment is one of the most important financial decisions in your life…..Protect it!
We recommend a home inspection for all sellers, buyers, and those looking to keep up with home maintenance. The knowledge that comes from a thorough home inspection can potentially save you thousands of dollars in costly repairs over the coming years.
The Efficient Home's courteous and experienced inspector will carefully inspect every accessible area of the home.
Below is a breakdown of what you can expect to be reviewed during a typical home inspection. Please note that a TERMITE inspection is included ,upon request, at no additional charge .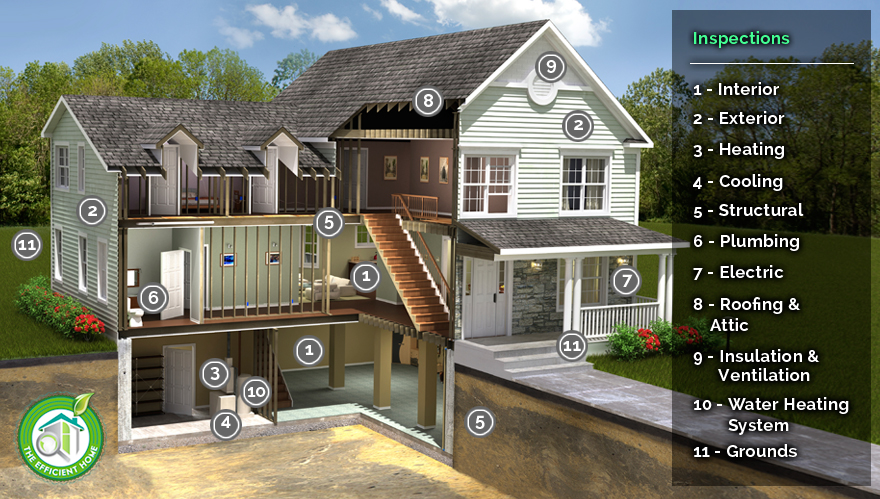 1 – Interior – Check the Interior of your home for the quality and integrity of the floors, walls and ceilings. We also inspect the windows and doors to ensure they operate correctly and have proper weather stripping.
2 – Exterior – Check the exterior of your home for the quality and integrity of the exterior paint, stain, stucco, masonry veneer, shingles and vinyl or aluminum siding.
3 & 4 – HVAC (Heating, Ventilation And Cooling) – Check the general condition level and operation of the visible portions of the furnace, air conditioning units, duct work, thermostat, air filter, fireplace damper, door & hearth.
5 – Structural – Check the condition of the structural components including:
Foundation, roof, masonry structure, exterior and interior components

Construction Methods and Materials.

Evidence of foundation movement

Water penetration in the foundation
6 – Plumbing – Check the general condition and operation of the plumbing system, including all visible supply piping, drains and main water shut off valves.
7 – Electrical – Check the general condition of the Electrical Service in your home including:
Electrical Panels, Breakers & Fuses, Grounding & Bonding
GFCIs & AFCIs
Electrical Service line & Meter Box
Main Disconnect & Service Amperage
Random Testing of Switches & Outlets
Light Fixtures, and Ceiling Fans
8 – Roofing & Attic – Materials, condition and performance of the Roof Coverings, Flashings, Chimneys, Gutters and Downspouts – Vents & Trim – Skylight, Chimney & other Roof Penetrations.
9 – Ventilation & Insulation – Check the overall condition of the attic and crawl space insulation as well as the ventilation and operation of the exhaust fans.
10 – Water Heating System – Check the water heating unit and interior plumbing fixtures & faucets for proper function and condition.
11 – Grounds – Check the Driveway, Hardscape, Decks/Patios/Porches, Retaining Walls, Fences, Gates and Vegetation.
We provide concise, detailed reports including recommendations, solutions & services along with detailed illustrations. All prepared by licensed, courteous and experienced professionals.
The Efficient Home is fully licensed in New York State under Christopher Burton : Home Inspector Lic.# 16000062931.